Last week, Jake and I headed out to Oregon to spend a few days with Hawkwatch International, watching the raptors migration. We spent most of the weekend with binoculars to our eyes, sitting in a 'blind', trying to lure in raptors so we could put a band on them, take their records, and then release them back to the sky. All of the information taken (wing, tail, weight, eye color, molt, parasites, etc.) then goes into a database and the bird then has a record that corresponds to the number on its leg band.
Those records are used to monitor the environment around us. Throughout migration, birds cover thousands of miles within a few weeks, heading towards their wintering grounds. Long-term data can help determine if a population is consistent or changing. If a specific species is in threat, it can give insight to a possible climate change, depletion of food source, or other variable factors. These records are helpful for conservation and indicators of ecosystem statuses.
I didn't bring a camera, and since we were literally camping on a mountain, my phone was dead most of the time. The few photos I got are posted below, Jake took some really incredible ones though!
Our flight got into Portland a little after midnight and our first stop was to pick up a car then head to a hotel until we could make it to the campsite. The car rental portion of the night was a little frustrating so we decided to walk to a hotel to get some much needed sleep. We woke up early the next morning and figured out the car situation and decided that we were going to drive it as much as possible to get our moneys worth! So we drove the complete opposite way of Mt. Hood and headed to the coast for the morning. It was pouring rain as we drove through the forests. I rolled down the windows just enough to feel the air without allowing any rain in, the smell of the wet trees was incredible.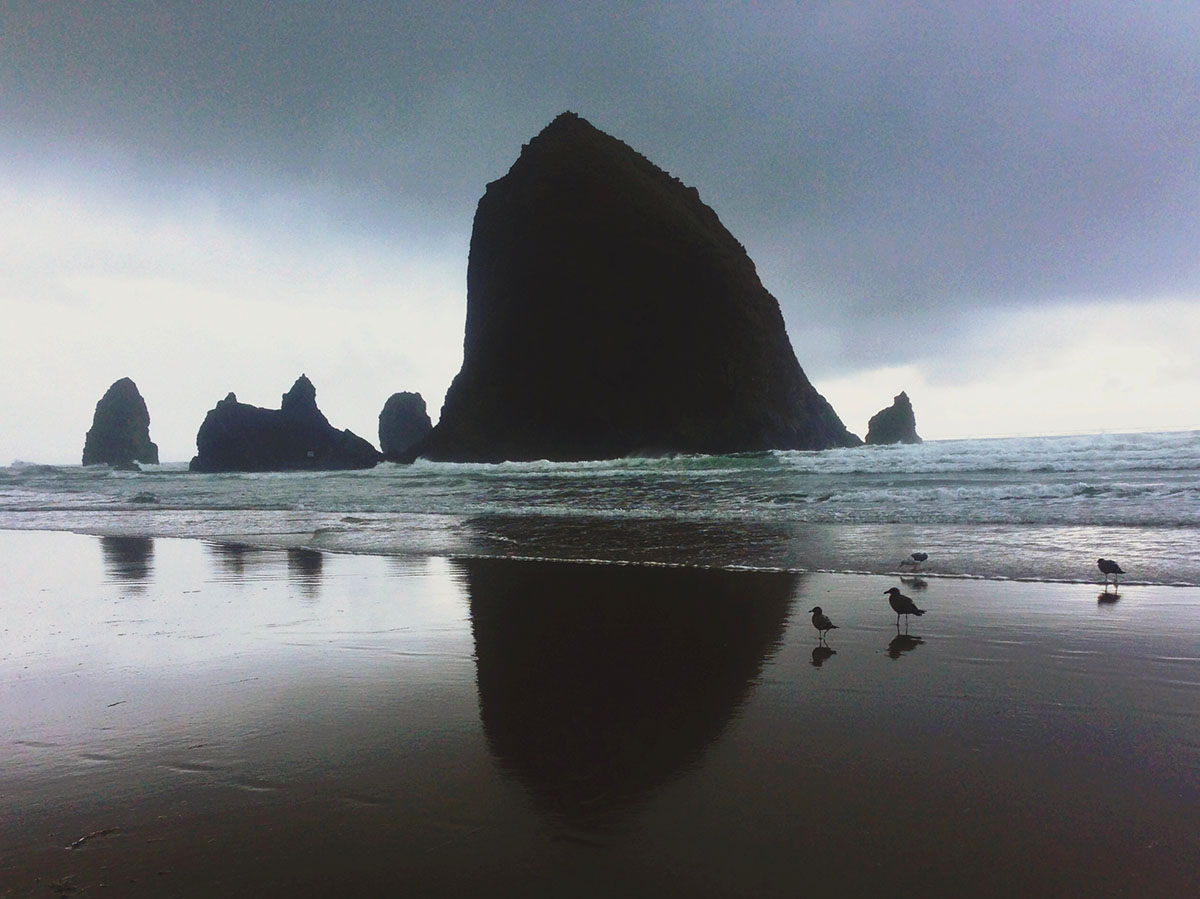 By the time we got to Cannon Beach, the rain eased up a little bit so we decided to walk to the shoreline. It started pouring again once we got out there, but at that point we were already soaking so we just decided to walk through it all. It was windy, there weren't many people out there, and it was completely beautiful. We trudged through it for a bit then decided to start the drive back east and head to Mt. Hood.
We got there a little before the sunset and the drive up was a little stressful (I don't recommend taking a sedan up a rocky mountain). So we parked and hiked to the top of the Bonney Butte. Driving through all the trees and winding roads on our way there, I was pretty speechless, but once we got to the top and I could see everything around me for miles, with no signs of civilization besides us, I suddenly felt small. I don't know if there is a word to quite describe it, but it felt right. We sat in silence and soaked it in, then headed back down to set up our tent and meet the site interpreter, Dustin.
He fixed some food for us and we sat with everyone in the main tent for the rest of the night. It was a small world, someone there grew up in a town not far from our hometowns. What are the chances of that.
We woke up early the next morning, had some coffee, made lunch for the day, and headed to the top of the butte again. For the next few days, we identified birds flying through, and the ones that came into the site got their records taken then we released them. It was a slow first day (bird wise) but we were still exploring all of our surroundings so the day went faster than I could really take in.
We found a good spot for lunch and ate there everyday after, plopped right on the side of some rocks.
A lot of birds flew overhead and a few got banded, this is a sharp-shinned hawk that was in the blind on one of our days there. The second photo is a coopers hawk.
On Sunday, we decided to go for a hike to one of the lakes in one of the valleys. It was only a two mile hike, but it was pretty steep, so it took us a little while to get to it. We could see a cool blue poking through the trees though and reached a beautiful lake in the midst of the forest.
We drank all of our water by the time we reached the bottom, so going back up was quite a bit of fun. ;)
The last day of the trip, we decided to stay in the banding station until we got one more bird. After a long and slow morning, we were thinking about heading out. Then a red-tailed hawk flew in and wow, she was beautiful. It was strange how calm the birds were. They would look at us, with intense eye contact, making sure you knew that they saw you the entire time. This particular red-tail stared me down while she was getting her measurements taken, her mouth was open the entire time and her glare was fixed on my eyes, she seemed to know what was going on and although the photo below looks like she is screeching at me, she didn't make a sound. After her records were taken, we brought her back out and I got to release her. It was kind of surreal to feel her in my hands, I could feel her movements as she focused on mine. I threw my hand into the air and she circled over our heads for a few minutes before heading back into the valley. We felt like that was a good way to leave the mountain, so we headed back to camp to pack up and make the trip to Eugene.
I was sad to go, and I was glad it was a long trip back down through all the trees, I wanted to stay as long as possible. But Eugene was next and I was excited to reunite with Katelynn for a drink. A few hours to catch up didn't seem to be enough, so I'll be seeing you again soon Oregon.